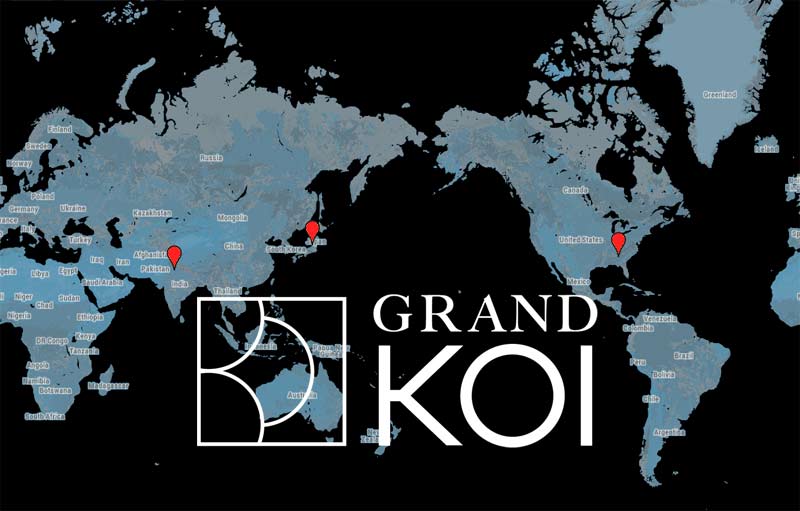 Welcome to Grand Koi, the place for the highest quality Japanese Koi from the finest breeders in Japan. Grand Koi is a young concept, founded by Koi hobbyists from various continents namely Asia, the Middle East and USA. The Founders and associates have been successful in aquaculture and fish feed manufacturing for more than two decades. We have Associates in Japan that help us maintain high standards in the industry.  We maintain preferred buying status with the leading Japanese Koi Breeders like Dainichi, Sakai, Momotaro and others. We also support hobbyists who like to participate in Japanese Koi shows. Presently, we have 24 Azukari Koi to participate in various shows in Japan including the famous "All Japan Koi Show".
We are one of the largest Japanese koi inventory holders in the United States. To support hobbyists in USA, we have collaborated with leading manufacturers of automated feeders, ceramic media and other Koi accessories, "MADE IN JAPAN". With the support of Japanese breeders and feedback from hobbyists, we have established a robust protocol in the selection of koi, quarantine, and continued support to Koi keepers.
We generally stock all sizes of quality Japanese koi and have thousands in stock for you to choose from. We offer these beautiful Japanese koi at affordable prices and to assure the best health of each koi we screen, quarantine, and acclimate all of our fish before delivery. We believe that we provide the healthiest, highest quality koi in the United States, and we're ready to prove it to you. We truly love koi and have devoted our time and considerable resources to enjoying and promoting these beautiful fish. Our outstanding quality, selection, service, and fish health give you many reasons to choose Grand Koi as your trusted supplier of superior koi.